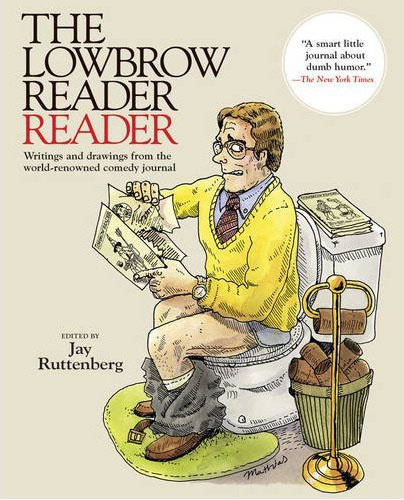 Als Jay Ruttenberg 2001 den Lowbrow Reader ins Leben gerufen hatte, dachte wohl niemand, dass das Ding so erfolgreich wird. Die Idee, was intelligentes für den Klo zu produzieren war irgendwie schräg, doch als es gelang, Künstler, Autoren, Musiker und sonstige Opinion Leader von dem Konzept zu überzeugen, da war ein Trend geboren. Als Autoren gewann man unter anderem Neil Michael Hagerty, David Berman, Gilbert Rogin, Shelley Berman undLee Hazlewood. Jetzt gibt es den Lowbrow Reader Reader, das ultimative Toilet Book brandneu zu haben (Amazon oder noch viel lieber Euer local Bookstore). Mehr Infos gibts hier  http://lowbrowreader.com/ 
Ein schönes Textbeispiel noch ganz umsonst für Euch:
A Report from Pordenone
by Francesca Granata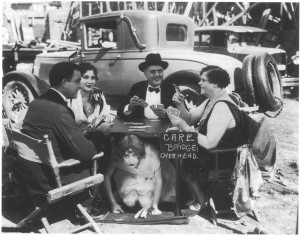 Marion Davies in King Vidor's The Patsy. (Photograph: The Kobal Collection)
Salice is a small town in the northeast of Italy, so close to the Baltics that natives flatten their Italian with slight Slavic accents. Every October, the town is invaded by a bespectacled pack of film scholars, journalists and archivists for the Pordenone Silent Film Festival. Suddenly, the square's provincial newsstand displays the International Herald Tribune, Le Monde and the Frankfurter Allgemeine alongside La Gazzetta dello Sport. Now in its 21st year — and fourth since moving to Salice from its namesake city — the festival has become to the century-old silent what Cannes is to the arty blockbuster. Nearly all of the Pordenone stars, however, would have to be exhumed in order to walk the red carpet.
This year, those ghouls would include Marion Davies, Florence Vidor and Asta Nielsen — actresses celebrated for their comedic roles at the festival, which was dedicated to the oft-forgotten "funny ladies" of the silent era. Unlike their better-known male counterparts, the comediennes generally came from the stage, not the vaudeville circuit, and thus relied less on slapstick than on traditional acting techniques.
Among the most prominent dramatic stars to slum in comedy was Gloria Swanson. Her 1925 feature, Stage Struck, portrays the diva against her glamorous image, as a diner waitress harboring dreams of becoming an actress. Though popular with contemporary festival-goers, the picture was a 1920s flop both commercially and critically — so reviled that Swanson herself attempted to suppress the film. Stage Struck's initial reception was possibly due to its artistic foresight: The movie opens with Swanson's character daydreaming about playing the very dramatic roles for which the actress herself was known. (Ironically, 25 years later Swanson concluded her career doing a similar — yet well-received — self-parody, in Sunset Boulevard.)
The comediennes' lack of elaborate Chaplinesque tricks hardly kept them away from embarrassing scenarios. Perhaps the funniest of the actresses showcased at Pordenone was Marion Davies, particularly in The Patsy (a King Vidor film from 1928). In the movie's most notorious scene, Davies eagerly makes herself the fool while impersonating a series of silent film divas — Mae Murray, Lillian Gish and Pola Negri — nailing their respective character traits with pitch-perfect accuracy. As with Swanson, Davies is at her most potent when parodying the construction of glamour and her own "diva" image. Restrained to cerebral humor, the comediennes of Pordenone developed a self-reflexive comedy that seemed at once of its era and decades ahead of itself.